Joomla! - Ultra easy!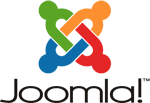 Joomla is a software allows you to make modifications to your Web site as easily as correcting a typo in word processing.
Easy you say! No! Ultra easy!
With a few clicks, you can modify the texts, add images, create new pages and even remove the promotion of the month before.
Control your Internet site
Web sites developed with Joomla! are interactive and dynamic for Web site administrators. Thanks to Joomla's content management system, you become an administrator who can modify the contents and images of your site and have total control over the updates on your Web site. You can have more than one authorized person (password protected) who has access to update your site.
Everywhere! Anywhere!
With Joomla, any place in the world a computer is connected to the Internet, you can modify the contents of your Web site via access to the administrator section.
Reduce The Cost Of Managing Your Site And Save
Starting from the deployment of your site, you can manage quickly yourself the updates of your site. Sites developed with Joomla assures you that can become autonomous with considerable savings of money as well as time saved too. The tasks of updating can be done by people with little or no experience in programming since the content management system (CMS) works under the model of word processing.